It has been a busy week but the sun has been shining on and off and the high for the weekend is in the 30's (that's kind of a big deal around here)!!
Here are my randoms for Friday! Have a great weekend!!!
ONE
Don't forget that this weekend is Daylight Savings Time and Spring Ahead,
so before you go to bed Saturday set your clocks ahead one hour.
[Boo] for one less hour of sleep
but yay for warmer temps ahead!
TWO
Last weekend was my nephew's sixth birthday and it was a nice afternoon spent
visiting with family members! Here are a few highlights from the party!
(My aunt's birthday was this Monday so this is a picture of her and my nephew blowing out some candles!)
Being that Tyler and I live on the other side of the state as most of my family members;
when we got together this past weekend I was blessed with some belated birthday gifts! Woo-hoo!!
FOUR
I was very excited to receive in the mail last Saturday a blanket scarf from the etsy shop
Momma & Sweet Pea Crochet
(one of the last purchases I received before the closet remix challenge) .
Katillia is amazing and hand crochets all of her stuff. This scarf is gorgeous, soft, and very warm!
The one I received is a beautiful mint color! Go check out
her shop
[NOW!!].
Here are a few ways I have styled it.
I am in LOVE with this new Lindt chocolate.
It is dark, salty and has caramel bits in it!
Seriously amazing!!!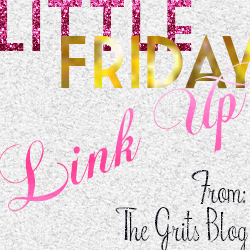 (Happy Little Friday host: The Grits Blog)
As always, thanks for stopping by!!
Make sure to stop back by on Sunday where I will share my week's worth of outfits from my
closet remix challenge!!