Hellooooo Friday!!!
My husband and I have been putting in a lot of extra hours at the hospital and life has just been a rollin'.... sorry I have been slightly neglecting my bloggity blog!
THANK YOU THANK YOU THANK YOU to all of you who have left some of the sweetest comments! I love hearing from each and every one of you! Totally makes my day! :)
Welp... on to my list for Five on Friday!
one
|
So, I have a question for all of you.... when it comes to comments do you reply via email or reply on the comment on your blog? I have been struggling with this because I once read that you SHOULD reply by email but to me then that looks like I neglect my comments and do not acknowledge them. I have been torn lately on what to do. Any comments, suggestions, or preferences by anyone?
two |
I love funny animal pictures on Pinterest, especially cat ones! Here are a few of my recent favorites!
three |
Last week or so I won a gift card to
Flourish Boutique
from Steph @
White Coat Wardrobe
's blog giveaway and I finally got a chance to pick some things out a couple nights ago! It was super hard as they have so many items! I love their shop! The other night I wore their Blushing Ballerina flats that are featured on my side bar and they are SO comfy! It was my first time taking them for a spin and normally flats give me a little bit of a blister the first time I wear them but not these.
Check out their awesome site!
(logo from Flourish website, see link above)
four
|
One trend I never thought I would jump on board with was camo but I recently found a "nice camo pattern" comfy tee at Target and could not resist getting it. Maybe camo is already on the way out but I am excited to mix and match it in to my wardrobe! Check back next week for some ways I have styled this trend!
five
|
Less than 20 days and my husband and I will be on a beach in the Dominican for one week with a drink in our hands and good friends by our side! I CAN NOT WAIT!!! WOOO!!
(photo courtesy: here)
Also linking up with: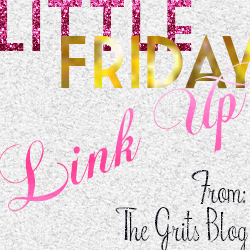 Thanks for stopping by!
Enjoy your weekend!
xoxo