Through the Lens: Here is a re-cap of October 2014 in pictures!
1\\ The month was kicked off with a girls trip to Nashville!
2\\ It was so much fun!! Lots of cowboy boots, country music, dancing, and drinks!
3\\ We visited the famous Loveless Cafe in Nashville.
4\\ My husband had a birthday and I planned a surprise day for him of arcade games, massages, and dinner! Most importantly, nothing to do with school!
5\\ Fall Harvest Party with some lovely friends
6\\ Enjoyed some lazy afternoons snuggling with the pups
7\\ Took in some Fall beauty at the park down the road
8\\ Fall is my favorite season and I love Fall fashion!
9\\ Wore my cape to work Halloween night because all nursing staff really are superheroes!!!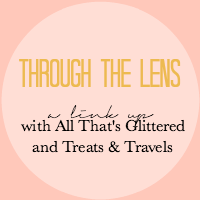 Linking up today with Kristen from Treats & Travels and you should too!
Thanks so much for inviting me, I loved doing it and can't wait to do a November one too!!
I also loved your set up on your page and hope you don't mind, I followed suit!
Have a great one ladies!
xoxo