Happy Labor Day!!
I have been fortunate to have the last five days off and today I am sharing with you
some of what I have been up to!
:: F R I D A Y ::
I mentioned that Friday my hubby and I were going to hit the outlets
and do a little bit of shopping and we sure found some great deals!!
He got multiple pairs of dress pants for school for $15 including brands like
Banana Republic and Calvin Klein.
I found some new shoes for work (I love the stripes, so fun!!!) and some great Fall pieces!
Everything at Banana Republic was 50% off and it was hard not to go too crazy!!
:: S A T U R D A Y ::
Saturday we celebrated my niece, Addyson, turning two!!
We had a party in the park and she loved it!
She was so fun to watch open her presents and was so excited about each one.
I may be biased but I think she is the cutest!!
:: S U N D A Y ::
We have been a little behind on laundry so Sunday consisted of multiple loads of laundry
and then a trip to Costco.
Have you tried these barkThins?? They are amazing!! Perfect for when you want a
little chocolate fix... dark chocolate, sea salt and almond! YUM!!!
Later, we took advantage of the nice weather and went to the park down the road and played some tennis while the pups hung out watching kids play.
The night and the weekend were finished with some reading on our back deck.
It was such a gorgeous evening!!
It was a great relaxing holiday weekend!
I would love to hear what you did!! :)
She is great!!!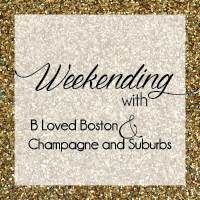 xoxo